Iranian/Persian Recipes
Getting Started | Soups | Side Dishes | Main Dishes | Desserts | Miscellaneous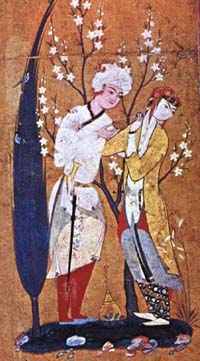 Welcome to the largest collection of Iranian/Persian recipes on the internet. Our collection contains 110 authentic recipes for tasty Iranian dishes. Iran offers a very rich variety of delicious cuisine that is not very well-known globally. Likewise, authentic cookbooks in English devoted to cuisine of Iran are difficult to find. We hope that our effort is a partial remedy for that situation.
About the authors: Farzin Mokhtarian was born in south-western Iran, and lived there as a child. He later moved to Tehran with his family. Roxana Zarghooni was born and raised in Esfahan, the old capital of Iran.
Note: The miniature painting on the right was scanned from:
The Ruba'iyat of Omar Khayyam (page 91)
Translated by Peter Avery & John Heath Stubbs
Penguin Books, England 1984
ISBN 0 14 00.5954 7
Dreaming when Dawn's Early Light was in the sky
I heard a Voice within the Tavern cry,
"Awake my little ones, and fill the Cup
Before Life's Liquor in its Cup be dry".
by Khayyam
(translated by Edward Fitzgerald; translation edited by Farzin)